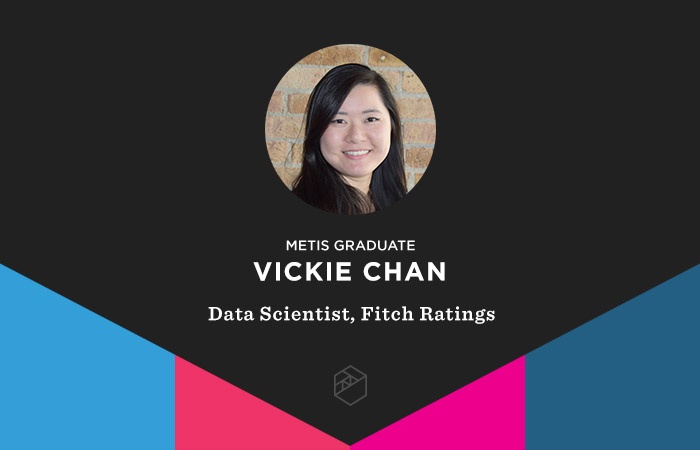 This is Vickie Chan's second time working at Fitch Ratings, one of the largest credit rating agencies in the United States. The first time exposed her to data science; now, she is a Data Scientist. 
After earning a bachelor's degree in economics and international studies and a master's in public administration, she worked for the State of Illinois Governor's Office of Management and Budget before moving on to Fitch, where she was an Analyst rating bonds within the Global Infrastructure and Project Finance group. 
"There was so much buzz around potential uses of data science as that department was ramping up at the company," said Vickie. "I attended a few 'lunch and learns' that were offered for all employees. No prior data science knowledge required. The first machine learning algorithm I heard of was K-Nearest Neighbors, and I was instantly hooked and wanted to learn more. I couldn't stop thinking of using some of those algorithms on our data."
Her interest grew, turning into a desire for a career change. She wanted to go from being an Analyst to a Data Scientist, but because she'd already earned a master's degree, she wasn't necessarily interested in pursuing more traditional schooling. The bootcamp route rose to the top as the best fit for her life and career. 
"It was a no-brainer since time and money were huge factors for me," she said.
But in order to fully invest herself in learning data science, she needed to quit her job. 
"There wasn't a clear path into a data scientist role for me as an analyst," said Vickie. "I didn't have any of the technical skills they were looking for. But they were very encouraging and told me to re-apply for a data scientist position once I graduated the bootcamp."
So she set off, entering the 12-week experience with an eagerness and readiness to learn. Looking back on her time in the bootcamp, projects stand out as some of the most powerful and memorable learning tools, according to Vickie. 
"I remember all the constructive feedback during presentations. Every time I create a deck for my job now, I think back to what the instructors would say," she said.

For her final project, she chose to use Rent the Runway data, topic modeling, and principal component analysis to see if there were any patterns in customer reviews with the goal of helping consumers find reviews specific to their particular shopping goals. 
After graduating, Vickie followed up on Fitch's advice and applied to be a Data Scientist. She got the job, in part motivated by how much she learned during project work in the bootcamp and how much of her role at Fitch would also revolve around creative projects and problem-solving. 
"I was drawn to going back because I was familiar with a lot of the data and I had some project ideas for the company," she said. "I really like the creative freedom aspect of the job. I feel like the data scientists here get to have a lot of say in how they want to conduct their projects."
In her role, she's using machine learning algorithms regularly for projects, as well as natural language processing and deep learning, to name just a few of the many elements of data science that she's tapping into as she continues learning and growing on the job. 
And part of that growth journey ties into something that was important to Vickie during the bootcamp and remains important to her now: believing in herself.
"I'm a woman of color and I definitely had imposter syndrome when I started the bootcamp," she said when asked what advice she'd give to those considering a bootcamp as a path toward data science. "Don't let one failed project or assignment or discouraging remark bring you down. There will definitely be times where you feel overwhelmed and stressed out, but know that the instructors are there to help, your classmates are nice people and they want to help. You're all in it together," she said.

She also noted that she often leans on the following quote from Michelle Obama when any aspect of imposter syndrome creeps back up -- and it's a great one for anyone to keep in mind as they pursue their goals. 
"Failure is a crucial part of success. Every time you fail and get back up, you practice perseverance, which is the key to life. Your strength comes in your ability to recover."
_____
Want to read more alumni stories? Visit here.
---