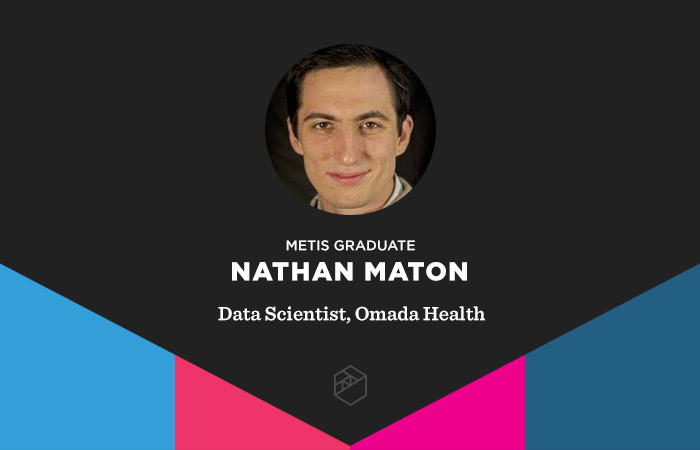 Bootcamp graduate Nathan Maton was a curious child, casually asking unsuspecting science teachers big questions like "what is time?" on the way to field trips. That curiosity led to what he considers his strongest skill: the ability to ask good questions, which over time, paved the way for a career in data science.
In college, he studied social sciences and completed a thesis on how digital media shapes individual social and political beliefs. He studied computer science too, and when he entered the workforce to focus on tasks like product management and marketing analysis, he couldn't help but notice the many opportunities to leverage large datasets to make better business decisions. 
"The longer I've worked and the more teams and projects I've led, the more important I see data-driven decision making to be in many parts of life and business," said Nathan.
As it routinely does when he notices something interesting, his curiosity kicked in. How could he gain new understanding and skills to tackle these opportunities effectively? 
It didn't take long for him to decide on a bootcamp as a way forward. His partner had recently graduated from a similar bootcamp experience, so he'd had a front-row seat to both the intensity and the results. 
"She successfully got a job...and has gone on to excel in her role," he said. "I was nervous if I'd be able to land a job, but seeing her success, and knowing I had a significant amount of work experience, helped me feel confident I could land something interesting."
He chose Metis, and within a week of graduating, he landed his current role as Data Scientist at Omada Health, a company whose mission is to help people build healthy life patterns through behavior change with a primary focus on diabetes. In his role, he specializes in helping leaders make effective decisions. 
"The fun parts of the job are getting to use the data science toolkit in areas that haven't been touched before at Omada. In the five months I've been here, I've been able to provide large financial value by improving our forecasting process and how we identify healthy food our participants eat," he said. 
Of course, there are challenges on the job, as well, including all that comes with a transition into a new field.  
"A basic one is just having to quickly learn more and fill in gaps in my knowledge," he said. "A second challenge is needing to redo and improve processes in a growing organization." 
This role is an excellent content fit for Nathan, who used his time in the bootcamp to work on projects focused on prevention and life improvement. His favorite was a Natural Language Processing (NLP) project using a dataset to predict online harassment. 
"I took a dataset that was labeled with hundreds of thousands of online forum messages and trained it to filter people and message boards on Reddit," he said. "I picked it because I felt it could have a real impact given how prevalent online harassment is." 
That desire to make an impact now manifests in his work at Omada, where the routine exploration of his curiosity is encouraged and embraced. 
"At Omada, I landed close to a perfect fit content-wise. I'd considered launching a mental health startup before Metis and researched depression, digital phenotyping, and more. Omada specializes in behavior change and is also getting into the mental health space," he said. "I didn't only apply to jobs like this, but it was certainly the type of job I hoped I'd get after the program."
_____
Nathan is always interested in connecting with people who are seeking decision science help, so feel free to reach out to him on LinkedIn!
Want to read more alumni stories? Visit here.
---