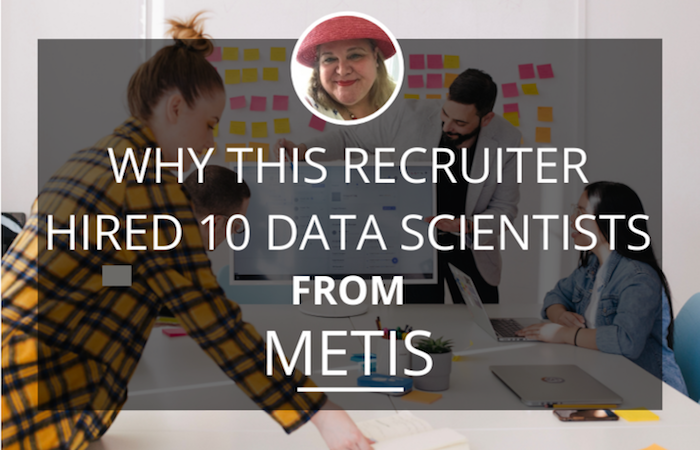 "We find that [Metis graduates] are eager to do well and to achieve. The Metis program is an intense program and I think that the graduates want to see some results from all of their work. They're ready to dig in and get working. That earnestness is actually refreshing," said Lynn Hodak, Corporate Recruiter for Artificial Intelligence and Analytics at Capgemini, a global consulting firm. 
This response came as part of an in-depth interview between Hodak and Course Report, published as a blog post on the latter's website late last week. Titled Why Capgemini Hired 10 Metis Data Science Grads, the post features Hodak discussing why Capgemini looks for data scientists who have both technical skills and soft skills (and how Metis helps to fill that need).
"...we look for people who have customer-facing skills. Communication skills are incredibly important," said Hodak. "We also want to make sure that they can do presentations well. Part of our hiring process includes an exercise that they must present to our team. Through that, we look at their technical skills, communication skills, and their ability to present. We do that through a video interview at the end. Sometimes we've let them present their Metis final project for that exercise." 
During the interview, she also answers questions about what the Capgemini interview process is like, about her relationship to Metis as a hiring partner, and about how the Metis grads she hired are doing on the job. 
"One of our notable Metis hires just finished a project with a client out in Virginia and we got rave reviews about her. She did phenomenally. Now she's in New York. She's outstanding and she's done quite well," she said. "They're all doing great jobs, I have no complaints. They're professional and doing great work."
Read the interview in full here. 
_____

Learn more about the Metis Data Science Bootcamp here. 
---