Want to learn more about our upcoming Data Science Bootcamp in Chicago? We invite you to attend an Open House on Thursday, November 10th. Learn more and RSVP here.
______


Late last month, we had the pleasure of hosting a Grand Opening event in Chicago, ushering in our expansion to the Windy City. It was an evening of celebration, food, drinks, networking -- and of course, data science discussion!
We were honored to have Tom Schenk Jr., Chicago's Chief Data Officer, in attendance to give the opening remarks. 
"I will contend that all of you are here, in some way or another, to make a difference. To use research, to use data, to get insight to help make a difference. Whether that's for a business, whether that's for your own process, or whether that's for society," he said to the packed room. "I'm excited and the city of Chicago is excited that organizations like Metis are coming in to help provide training around data science, even professional development around data science."
After his remarks, and after a ceremonial ribbon cutting, we handed things over to moderator Lorena Mesa, Engineer at Sprout Social, political analyst turned coder, Director at the Python Software Foundation, PyLadies Chicago co-organizer, and Writes B Code Conference organizer. She led a great panel discussion on the topic of Demystifying Data Science or: There's No One Way to Become a Data Scientist.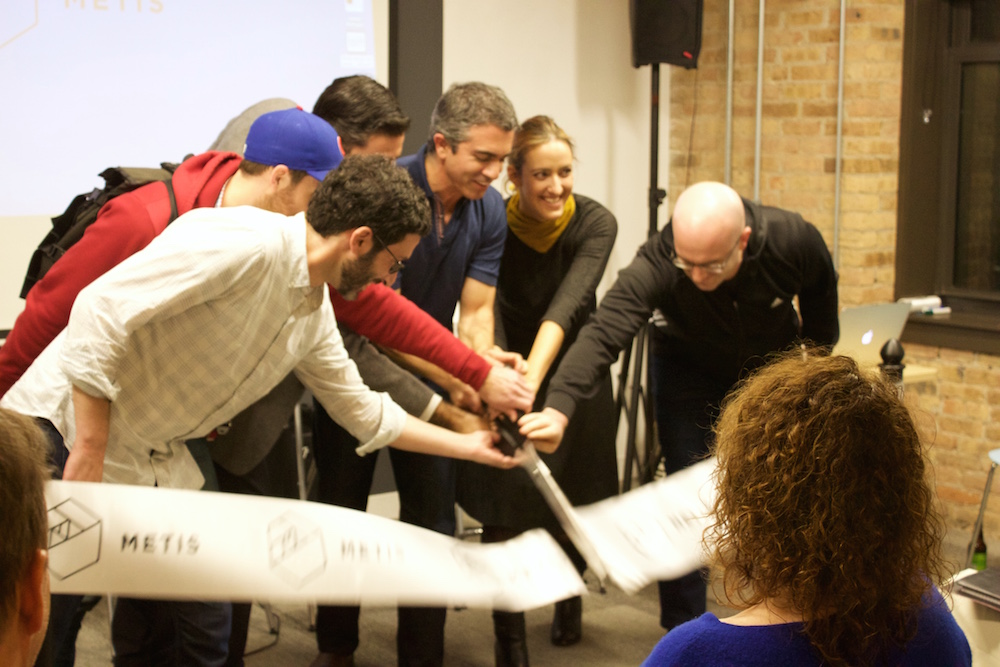 The panelists: 
Jessica Freaner - Data Scientist, Datascope Analytics
Jeremy Watt - Machine Learning Consultant and Author of Machine Learning Refined
Aaron Foss - Sr. Insights Analyst, LinkedIn
Greg Reda - Data Science Lead, Sprout Social
While discussing her transition from finance to data science, Jess Freaner (who is also a graduate of our Data Science Bootcamp) talked about the realization that communication and collaboration are amongst the most vital traits a data scientist needs to be professionally successful - even above knowledge of all appropriate tools.
"Instead of trying to know everything from the get-go, you actually just need to be able to communicate with others and figure out what kind of problems you need to solve. Then with these skills, you're able to actually solve them and learn the right tool in the right moment," she said. "One of the key things about being a data scientist is being able to collaborate with others. This doesn't just mean on a given team with other data scientists. You work with engineers, with business folk, with clients, being able to actually define what a problem is and what a solution could and should be."
Jeremy Watt told how he went from studying religion to getting his Ph.D. in Machine Learning. He's now the author of Machine Learning Refined (and will teach an upcoming Machine Learning part-time course at Metis Chicago in January). 
"Data science is such an all-encompassing subject," he said. "People come from all walks of life and they bring different kinds of perspectives and tools along with them. That's kind of what makes it fun."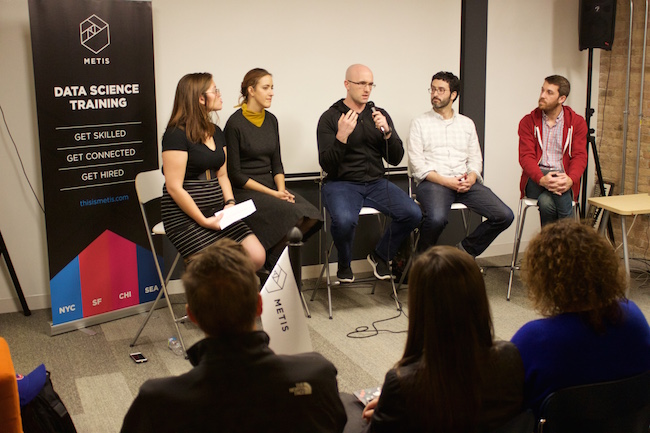 Aaron Foss studied political science and worked on a number of political campaigns before positions in banking, starting his own trading firm, and eventually making his way to data science. He considers his path to data as indirect, but values each experience along the way, knowing he learned invaluable tools en route.
"The important thing was throughout all of this...you just gain exposure and keep learning and tackling new problems. That's really the crux of [data science]," he said. 
Greg Reda also discussed his path into the industry and how he didn't realize he had an interest in data science until he was nearly done with college. 
"If you think back to when I was in college, data science wasn't actually a thing. I had actually planned on being a lawyer from about 6th grade until junior year of college," he said. "You have to be continuously curious, you have to be continuously learning. To me, those are the two most important things that can be overcome everything else, no matter what may or may not be your deficiency in trying to become a data scientist."

____


Thanks to everyone who was involved in our Grand Opening. We had a blast! If you're curious to learn more about the upcoming Data Science Bootcamp in Chicago, we invite you to attend an Open House on Thursday, November 10th. Learn more and RSVP here.
---