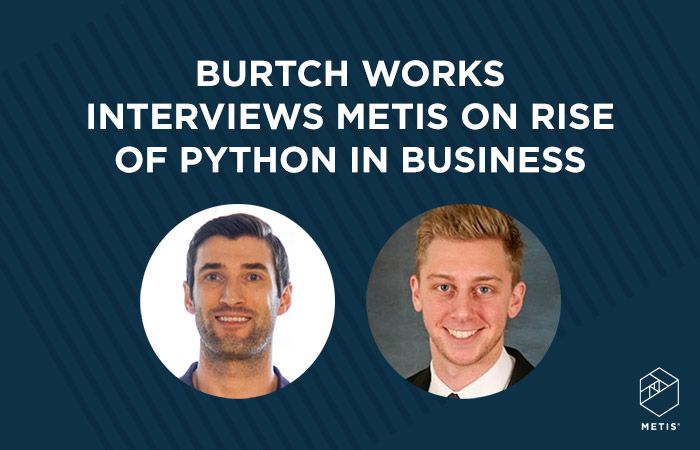 In a recent interview with Burtch Works, a leading executive recruiting agency, Metis Executive Director of Data Science Corporate Training Mike Galvin and Metis Sr. Data Scientist Kevin Birnbaum were asked about Python's rise in popularity among both practitioners and businesses. According to the post, "Python has been making rapid gains in the data science and analytics community, as we've found in our SAS, R, or Python surveys over the past few years."
Why is that? To better understand, Burtch Works sought insights on the advantages Python offers to practitioners and businesses. According to Mike, the reason Python is growing on the business side has a lot to do with why Python enthusiasts have increasingly gravitated toward it.
"If you think about the reasons why users are choosing this as their preferred tool, it's because it's well maintained, with a low learning curve, there's an established community, it's flexible, they can do a lot with it, and they can get up and running very quickly," explains Mike. "Companies want to take advantage of that. Ultimately, this leads to companies making their employees happy and more productive. With Python's low learning curve and flexibility, a broader audience can start using it, which allows for better cross-functional collaboration. It also allows for faster development and innovation." 
Check out the full interview here.
Learn more about Burtch Works here.
---