This week, we hosted a live AMA (Ask Me Anything) session on our Community Slack channel featuring Metis Seattle Career Advisor Marybeth Redmond and Metis San Francisco Sr. Admissions Manager Josh Shaman. During the hour-long chat, the two answered a variety of questions about the bootcamp, ranging from the application process, job search, career trajectories, curriculum, expectations, and much more. Read below for some highlights! 

And mark your calendar! The next bootcamps start July 1st at all U.S campuses, and the early application deadline is May 6th! Learn more here.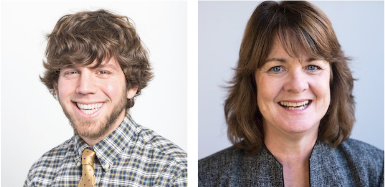 ADMISSIONS 
What kind of education and work experience do you look for in applicants?
We're not looking for a particular degree. Half of our students have a Master's or Ph.D., while the other half has a Bachelor's. The majority of the majors are STEM (eng, bio/chem/physics, or quant like econ/math/finance). With that said, our application requires command over the fundamentals of Python, and you will be assessed on your math/stats background, so it may or may not correlate to your field(s) of previous study. Check out this page to see some more info.

Is it useful for future applicants to the bootcamp to take both the Intro to Data Science and Beginner Python & Math courses or just one of them?
A lot of students choose 1 of the 2 courses to take based on their backgrounds and needs, but some people take both. Here's a page with a really detailed breakdown of what the courses offer compared to what's taught in the bootcamp and what's on the application. Also, a note: you can apply the cost of 1 part-time prep course to the cost of your bootcamp tuition upon admittance. 

Is there a limit on the number of times you can apply to Metis?
We will certainly provide feedback and give you steps to improve for a future application. There isn't a limit on the number of applications, but rather we ask that applicants reapply after taking the steps we recommend. 

Do you have an online bootcamp program ?
We have two live-online bootcamp prep courses, but the bootcamp itself is delivered onsite in SF, NYC, SEA and CHI in the U.S. and in Singapore abroad.

DURING THE BOOTCAMP 
What extra-curricular activities do you recommend students engage in before and during the bootcamp in order to prepare for job hunting?
Networking is critical! Meetups can be very effective. It is also important to study study study, and practice your interviewing skills. Marybeth also notes that in Seattle, one of her favorite Meetup groups is NewTech NW.

How many mock interviews do you do during bootcamps?
We have formal technical mock interviews with our instructors close to week 10 or 11. We also conduct multiple non-tech interviews during and after the bootcamp. 

During the bootcamp, how much time in and out of class do students usually spend working on course work and projects? About how many hours per day?
It varies a bit, but most folks usually spend additional time each evening (estimates from students average 2-3 hours per night) and also on the weekends. It will depend on the project due dates, as well, but you can expect that more time is needed than Monday - Friday, 9-5. As with any academic program, you'll want to stay on top of lectures by reviewing challenging concepts and complete work on projects.

Does the bootcamp provide opportunities for networking during the 12-week period? And does the Career Support include determining the right career path based on the student's strengths and interests in the data science field? 
Yes, we let you know about networking opportunities throughout the bootcamp and host quite a few of them right onsite at Metis. We spend time with each student to help determine the right path for them in this new adventure. We can look at what you want and then look at what companies are looking for you!


GETTING HIRED  
Can you talk about the percentage of students who attend the bootcamp who find jobs after completion?
Being that we're the only accredited data science bootcamp, we are held to a standard by a 3rd party (ACCET is the accreditor). Their requirement is that at least 70% of Metis grads find full-time data jobs within 6 months of graduation using skills learned at Metis. The accreditor verifies this and can trigger an audit of our outcomes. Having this accreditation is significant because, for many other bootcamps, decisions about who/what is included and excluded within their hiring statistics is up to them and may not always be completely data-focused or full-time jobs. 

Does Metis give a job guarantee provided the candidate graduates successfully?
We can't promise or guarantee a job, but we give you the support and tools you need to land a job successfully. We are also accredited by ACCET, which checks on us regularly to make sure our students are getting jobs. We're held to strict standards that others are not. Additionally, I've read through many job guarantees provided by bootcamps, and they tend to have lots and lots of stipulations and ways that your guarantee could be voided. It's important to read the fine print on any "guarantee".

Is the job market saturated for data science roles? I ask because I rarely see job openings for data science interns or Jr. Data Scientists. I more often see recruitment focused on Ph.D.-level, experienced, researchers who are experts in data science. Are there no such junior data scientist role available?
The job descriptions for data science roles can be quite intimidating. There are many employers searching for Senior or even Principal level Data Scientists, but we are still seeing Junior or Intern positions open too. The competition is strong across the board. However, also keep in mind that these descriptions are what these companies prefer in a candidate in terms of who can check all these boxes. In real life, they often don't find a candidate who checks off each box. 
There are also lots of Data Analyst roles where employees do a split of time and are expected to use the data science toolkit and not just traditional SQL-type work. Maybe a mix of 25%-35% predictive modeling and 75%-65% more traditional analytics. And lots of companies use titles that would have a different title elsewhere. Google, for example, hires Product Analysts who need to also know and use some of the data science toolkit. So it really varies!  

Do you find that bootcamp graduates who only have a Bachelor's degree have a more difficult road to a data science job?
I've tried to correlate this in the past, but I have not found it to be the case. We have plenty of great success stories from alumni whose terminal degrees were Bachelor-level. We just published a blog post about one such student, which you can check out here. 

Data science is a broad field with many applications. What do you think are exciting and in-demand areas of data science that would be good to specialize in?
A lot of data science work is product-focused or somehow revenue-focused (user engagement/retention, modeling out financials to predict costs and analyze trends, etc.). In terms of this sort of specializing, it's often based on the company's particular domain combined with your own interests. So, if for example, you have a finance background and work at a finance company...that would be helpful because you'll understand the products and business lines. If you don't have that background, you can start building it for that industry.
Marybeth notes that In Seattle specifically, there seems to be a focus on machine learning. There are a number of startups in this space that are after those skills. 

Speaking of Seattle, is there something specific you see in terms of types of jobs available? 
Aside from the pattern of noticing machine learning as an area of specialization, in Seattle, each position is a little different and there is not always consistency across companies. 


What can you tell me about the companies that hire from Metis, specifically in Seattle?
Several graduates work at both Amazon and Microsoft, and we have a number of alumni working at consulting firms, Starbucks, etc. Incredibly enough, we've been open for almost two years now in Seattle. It's our newest location, but we've picked up steam. We had a very successful Career Day event just last week with employers from Amazon, Indeed, Microsoft, and more. Two of our graduates walked out with interviews set up at Amazon. Additionally, our Careers Team has strong ties to the local hiring community and know many of our employers personally, which definitely helps, too!


I come from a nontraditional background (BA, not BS). Even if I were to successfully complete all pre-work so that I succeeded within the program, is there a track record of people being hired who don't fit the profile?
Yes, most definitely. We have many grads without STEM degrees. We've had some MBAs with good success, had a Bachelor's in Philosophy who has been working at Autodesk for a while now, Master's in Sociology, etc. You should expect to work extra hard on networking and making connections using ones we have plus ones from our alumni community.  Completion of the bootcamp and career support can set you up for a data science role. Here are a few examples of bootcamp graduates now working in data science without STEM degrees. See here, here, and here. 

Considering the fact that I'm from a non-computer science background and now want to pursue the bootcamp , would you say I should focus more on being a data analyst before thinking of applying to data science roles as that would come later in the career as a natural progression with experience in the company?
It's really hard to say and you would have to review each job posting. Most of our graduates take a data science title, but we have plenty who take data analyst titles where the work is compelling and exciting and they use the data science toolkit. I've also seen roles titled data scientist where the work is certainly more in line with a traditional data analyst and vice versa. 

What does the portfolio of a typical Metis grad look like and how do you help graduates differentiate themselves from the pile of other applicants to data science jobs coming from tradition academia? 
The biggest differentiator for our grads is their strong portfolio of projects. The five projects our students complete are what recruiters and hiring managers want to see and learn more about. Networking and leveraging alumni referrals and any other type of referral is always the best way to stand out from the crowd. Resumes that are referred generally go to the top of the pile. 

Is there a particular geography that you see most Metis graduates landing a job?
We have the most connections in our four U.S. campus locations (Seattle, SF, NYC, Chicago). However, we have alumni all over the place! Portland, Atlanta, DC, and so forth. We have higher placement number near all of our campus, but there is cross-country demand. A few of our recent grads have landed in Denver, Cincinnati, and Austin. 

CAREER SUPPORT  
Can you talk about the career advising framework that Metis provides? I'm curious to know if it's only for (X) months after bootcamp completion?
You receive career support during and after the bootcamp. We help you until you get placed! Our goal is to have you in a data related role within 3-6 months, but we don't stop the support if it takes longer.


What kind of career support is provided for international students? I'm from Canada and was wondering if Metis has either hiring partners or an alumni base here?
We are adding hiring partners every day and would love to add more from Canada! And yes, we do have alumni in Canada. We would leverage them and also reach out to top employers in Canada looking for data scientists to build more partnerships. Also, keep in mind that we offer the M1 visa in San Francisco and New York City only. For international students, they return home to work in their home countries. The M1 visa doesn't offer work authorization. However, for Canada and Mexico, you can get the TN visa, which depending on your background, can be a good option to have a visa to work in the U.S.


MISC. 
How often is it that the bootcamp is used as a stepping stone to further education in the field (ie. Master's or Ph.D.)? I'm wondering if the bootcamp itself provided the foundational knowledge to then pursue further education.
We don't have a number handy regarding how many folks use it as a stepping stone to further education, but for example, two grads come to mind right away who completed the bootcamp and then went on to get their Master's. One went on to Georgia Tech and earned a Master's in Computer Science. I will say that most of our students seem to find the prospect and opportunity of working in the data science space beneficial and find that they can develop their careers without taking time away for a 2-year master's or similar. 

What do you make of the graduates who don't go on to get data science jobs, and why might they not be working in the field after completing such an intense, well-regarded program?
Some folks decide to not pursue a data science role and that is fine. Our alumni all have different reasons for completing the bootcamp. Some folks return to their past employers and life takes them in another direction.  I'd also add that the best way to increase your probability of finding a data science job post-bootcamp, and finding it within 6 months, is to stay closely connected with your Career Advisor and take the steps they recommend. You'll get lots of feedback and suggestions from the Careers Team on how to follow up on applications, how to reach out to recruiters, how to optimize your LinkedIn, etc.


What do most students do for housing during a bootcamp? Rent apartments?
A fair amount of students are local. However, for those moving cross-state or country (or even international!) we have a list of resources for potential housing options for students. Usually, it's short-term rentals or using Airbnb or finding housing in a Facebook group or similar. Also, yes, some folks rent apartments on a short term lease and some others have family in the area and stay with them.

__________
To learn more about our Data Science Bootcamp, visit here. 
---