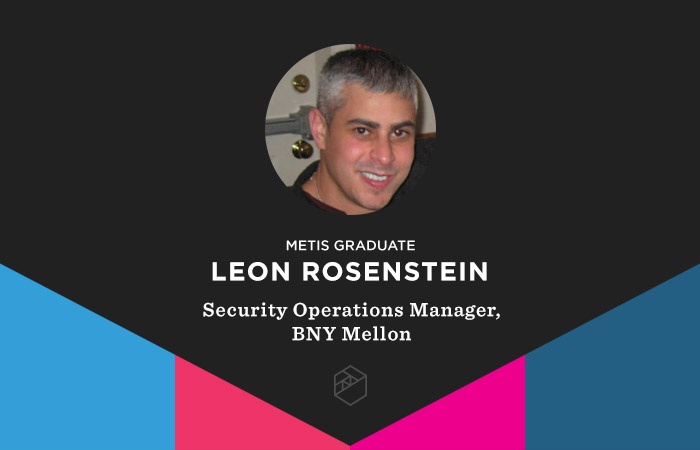 For much of his career, Leon Rosenstein's primary working goal has been to stay one step ahead of those seeking to do digital harm. In the late 90s, after dropping out of college during his last semester, he needed a job. Good with computers, he landed a position at a help desk, where his interest in online security was born. 
In the years that followed, Leon built a career around threat hunting, security architecture/engineering, and offensive security. He's worked as a Senior Security Engineer at Citi Bank and a Senior Security Consultant at Deutsche Bank, among other roles.
"Security is naturally a reactive process. The problem is what they call the Superman paradox," he said. "While Superman has to save the world every time, his enemies only have to get it right once. It's a lot of solving puzzles and trying to out-think the enemy." 
But as is sometimes common within long careers, there came a time when Leon wanted a break from online security, diving headfirst into his desire for entrepreneurship. He started his own marketing analytics company because he wanted to work for himself for a while and travel and have the flexibility to live in new places. Some years into the entrepreneurial process, he was involved in a company project that required him to work alongside a data scientist. The experience exposed him to yet another field of major personal interest – one that paired incredibly well with his former career in security. 
"I started teaching myself [data science], and when I realized all the inefficiencies in that, I started looking for professional help," said Leon. 
He found his way to Metis, first taking the part-time Introduction to Data Science online course, which doubles as bootcamp preparation, then becoming a full-time bootcamp student. During the bootcamp, an interest in applying his expanding skill set to online security-related issues only grew. He built an intrusion detection system using artificial intelligence for his final project.
"Metis was a game-changer for me in terms of working with lots of security data. Everything from learning proper EDA, to how to do analysis, to even presenting results, has been super helpful for me every step of the way," he said. "I think to really understand a problem, you need to understand both the domain and the data. I had the former, and Metis provided me with the latter."
Upon graduation, Leon sought out roles that would allow him back into the security realm, where he could use his new skill set and knowledge to keep companies and their clients as safe as possible from hacking threats. 
Until about a month ago, he was the Vice President of Information Security Analytics at BNY Mellon, a role built upon a central mission: to find creative ways to stop online security threats by building and running models that detect abnormalities. Or, as he liked to put it, designing machine learning algorithms to "keep bad people from doing bad things."
He's now the Security Operations Manager at BNY Mellon, where he's building out and leading a team focused on Security Architecture and Engineering – and where he says he's enjoying the process. 
"Life is very short," said Leon. "So it's cool that I get a chance to make a difference doing something I love."
_____
To read more Data Science Bootcamp alumni stories, visit here.
---