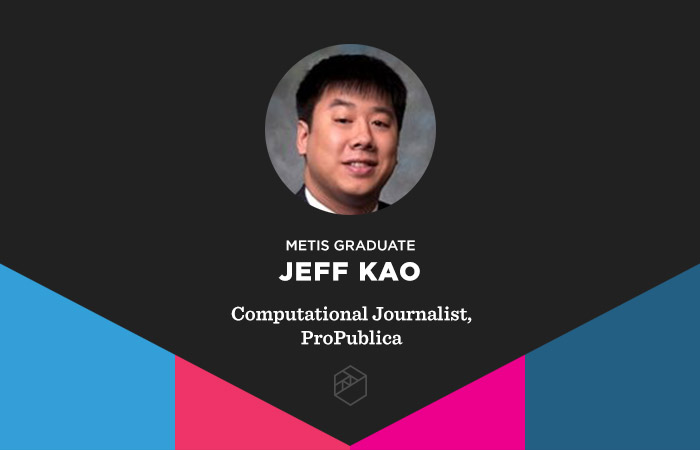 Metis bootcamp graduate Jeff Kao knows that we're living in a time of heightened media distrust – and that's precisely why he relishes his job in the media. 
"It's heartening to work at an organization that cares so much about producing excellent work," he said of the nonprofit news organization ProPublica, where he works as a Computational Journalist. "I have editors that give us the time and resources to report out an investigative story, and there's a track record of innovative and impactful journalism." 
Kao's main beat is to cover the effects of technology on society – good, bad, and otherwise – including digging into topics like algorithmic justice through the use of data science and code. Due to the relative newness of positions like his, combined with the pervasiveness of technology in society, the beat presents wide-ranging possibilities in terms of stories and angles to explore. 
"Just as machine learning and data science are transforming other industries, they're starting to become a tool for reporters, as well. Journalists have often used statistics and social science methods for investigations and I see machine learning as an extension of that," said Kao.
In order to make stories come together at ProPublica, Kao utilizes machine learning, data visualization, data cleaning, experiment design, statistical tests, and more. 
As just one example, he says that for ProPublica's ambitious Electionland project during the 2018 midterms in the U.S., he "used Tableau to set up an internal dashboard to track whether elections websites were secure and running well."
Kao's path to Computational Journalism wasn't necessarily a straightforward one. He earned an undergraduate degree in engineering before earning a law degree from Columbia University in 2012. He then moved on to work in Silicon Valley for some years, first at a law firm doing corporate work for tech companies, then in tech itself, where he worked in both business and software. 
"I had some experience under my belt, but wasn't completely inspired by the work I was doing," said Kao. "At the same time, I was seeing data scientists doing some amazing work, particularly with deep learning and machine learning. I had studied some of these algorithms in school, but the field didn't really exist when I was graduating. I did some research and thought that with enough study and the opportunity, I could break into the field."
That research led him to the data science bootcamp, where he completed a final project that took him on a wild ride. 
He chose to explore the proposed repeal of Net Neutrality by analyzing millions of comments that were supposedly both for and against the repeal, submitted by citizens to the Federal Communications Committee between April and October 2017. But what he found was shocking. At least 1.3 million of those comments were likely faked. 
Once finished with his analysis, he wrote a blog post for HackerNoon, and the project's results went viral. To date, the post has more than 40,000 "claps" on HackerNoon, and during the height of its virality, it was shared widely on social media and was cited in articles in The Washington Post, Fortune, The Stranger, Engadget, Quartz, and others.
In the introduction of his post, Kao writes that "a free internet will always be filled with competing narratives, but well-researched, reproducible data analyses can establish a ground truth and help cut through all of that." 
Reading that, it becomes easy to see how Kao came to find a home at this intersection of data and journalism.   
"There is a huge opportunity to use data science to uncover data stories that are otherwise hidden in plain sight," he said. "For example, in the US, government regulation often requires transparency from companies and individuals. However, it's hard to make sense of all the data that's generated from those disclosures without the help of computational tools. My FCC project at Metis is hopefully an example of what might be discovered with code and a little domain knowledge."
__________
Read more alumni stories here.
---