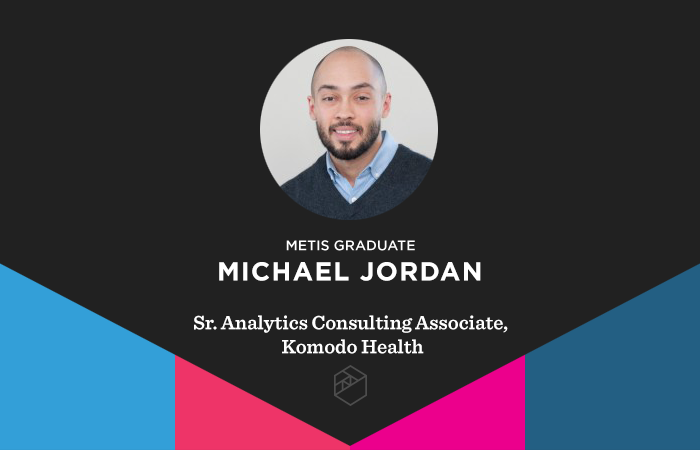 With a passion for research and the healthcare industry, bootcamp graduate Michael Jordan increasingly knew the importance of mastering the tools and concepts of leveraging large data sets. 
So, after finding out about the Metis Data Science Bootcamp, it was only natural that he decided to join the program to learn the necessary skills to continue driving advancements in the healthcare field.
Recently, we asked Michael some questions about his experience both during and after the bootcamp. Here's what he had to say.
What's your professional/educational background? How did you become interested in data science?
MJ: I graduated from the University of Chicago with a BA in Psychology and am working on a Master's in Clinical Research Organization and Management at Drexel University. Before my time at Metis, I served overseas as an Air Force medic and eventually moved into project/data management for early phase oncology trials at a contract research organization (CRO) affiliated with Memorial Sloan Kettering Cancer Center. 
Working in the healthcare research space, it was important for me to continue to familiarize myself with the latest data-driven scientific methods and analytical tools, so I decided to expand my data science skillset at Metis in the hopes of helping to translate scientific discoveries to improved standards of care. 
What made you consider a bootcamp as a way into the field?
MJ: Before joining Metis, I already had nearly ten years of professional working experience in healthcare. I had also already started working on an advanced degree in research management, so I wasn't interested in starting from scratch and pursuing more traditional formal schooling in data science that would potentially take several years to complete. An accelerated bootcamp seemed like a great way to add to some of the skills I already possessed while also building a portfolio filled with projects that would prepare me for what would come next in my career. 
Once in the bootcamp, do any particular memories stand out?
MJ: I'm happy to say I have a bunch of good memories that stand out. Most of them involve times when we interacted with each other and the instructors. 
Describe your current role at Komodo Health. What drew you to the role and company? What do you like about it -- and what are some challenges?
MJ: I'm currently working as a senior analytics consulting associate at Komodo Health. In this role, I work with life science customers to help answer their business questions using insights from Komodo's healthcare map. 
A couple of things drew me to the role and Komodo generally. I liked that the scope of the work was broad, incorporating elements of analytics, healthcare knowledge, and client-facing skills. The company's mission - to reduce the global burden of disease -  also really resonated with me. I learned more about Komodo (and eventually got a referral) from a fellow Metis alum - Kristen Tokunaga - who was working there in the same role. We're on the same team now, and I'm lucky enough to be able to learn from her and the rest of the team every day. 
I think one of the main challenges, not necessarily specific to Komodo, is understanding the nuances of potentially messy healthcare data and, more broadly, the healthcare system that currently exists in the U.S. 
At Komodo Health, what aspects of data science/analytics are you using regularly?
MJ: SQL, Snowflake (data warehouse), and Microsoft Office suite are probably the backbone of what I use for my projects (although, my team also utilizes python, jupyter notebooks, and other tools in our work-flows). We also work closely with a dedicated data science team that collaborates with us to create project-specific data pipelines and predictive analyses. 
While at Metis, what did you choose to do for your final project?
MJ: For my final project, I ended up building a flask recommendation app that takes a user-uploaded image of street/graffiti art and returns images and metadata of fine art that are visually similar. The project allowed me to apply some of the deep learning and neural network concepts covered at Metis. 
You can watch Michael present his final project or read his project write-up at his GitHub for those curious.
What advice would you give to someone just starting or interested in the bootcamp? 
MJ: The two things that come to mind are - 
Utilize your classmates whenever you can. I was surprised to learn how often multiple people in my cohort had run into similar challenges during project work that they had interesting solutions for. Working collaboratively and utilizing everyone's diverse experiences/backgrounds was a huge help for me. 

Focus on learning and implementing the fundamentals when building out projects. Attempting to use the latest/most complicated machine learning model in every project may be appealing, but often the exploratory data analysis itself or a more straightforward model leads to the most interesting and interpretable results. 
-- 
This interview has been edited for clarity. Want to learn more about our graduates? Read more. 
---