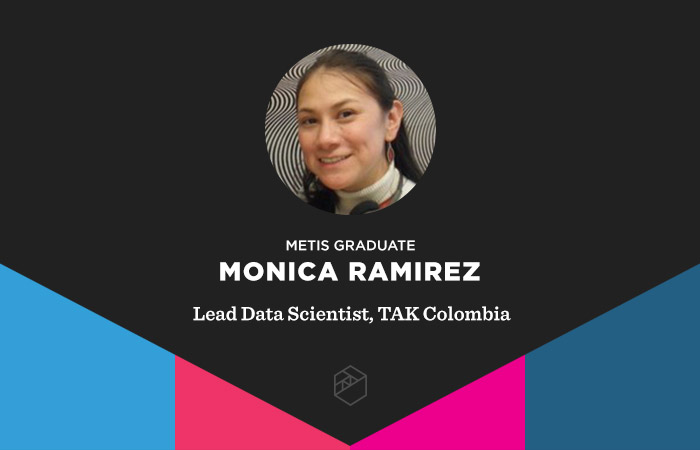 Bootcamp graduate Mónica Ramirez was well-positioned when the data science boom hit Colombia, where she was born and raised. She'd studied computer science at Escuela Colombiana de Ingeniería and was 8-years-deep into her career at a consulting firm working in databases, data analysis, and business intelligence. 
When data science started making waves in Colombia – as companies developed data science teams and open communities flourished, and Meetup groups sprung up in Bogotá and other large cities – she saw it as an exciting way to move her career forward. She already had coding and algorithm experience, but she needed some additional qualifications to get on track, including a more in-depth focus on math, statistics, and algebra. 
While looking into online courses and related events, she attended a day-long data workshop where other attendees told her about the data science bootcamp model and its focus on preparing students for career shifts into the field. She was intrigued. 
"I started investigating. I decided on the bootcamp methodology instead of a Ph.D. because of the time each took – 3 months compared to up to 2 years. The IT business moves so fast, so I needed something quick and efficient." she said. "Of course, bootcamps are not cheap, so if I was going to spend a lot of money, I wanted it to be a good place. I chose Metis because it had very good reviews on community pages, and some of the alumni I reached out to via LinkedIn were well-positioned and had some interesting projects." 
On top of that, she liked that Metis was the only accredited bootcamp, even requiring her to get a student's visa. 
"This was more effort for me, but it gave me reassurance that it was a serious place," she said. 
Mónica attended the New York City bootcamp on an M-1 student visa. She'd traveled to the city before but had an entirely new experience living there for four months. 
"Living there...was a totally different and exciting experience. I love the NYC lifestyle. I love theatre and museums," she said. "But most of all, I loved meeting people from all over the world."
Before she left for the bootcamp, the company she worked for in Colombia agreed to hold her job intact, meaning she didn't have to worry about finding a job immediately after graduating. That security allowed her to choose portfolio-building projects with a certain amount of freedom; she selected topics of personal interest that would help her fill in knowledge gaps.
"My first project was a prediction on coffee production because I wanted to show my classmates a little bit about my country and remove that first impression some people have about Colombia. Another project was a Game of Thrones death predictor, just because I found it fun – and it turned out pretty accurate in the end," she said. "My Natural Language Processing project was focused on working in Spanish because that's what I was going to apply back home. And my final project was not aimed to impress headhunters, but to help me get lasting and full understanding of neural networks and image recognition." 
After graduation, she returned to Colombia and her previous job, but it soon became apparent that she wasn't going to be able to apply her new knowledge and skills as much as she'd hoped. She started looking for a new opportunity. 
A couple of weeks later, an international consulting company with an office in Colombia reached out to her in search of a data scientist to join its data and analytics team. She was hired and worked there for almost a year, applying what she learned in Metis in different ways, including segmentation, classification, and visualization. Working with that team of data scientists gave her newfound confidence in applying what she learned in the bootcamp, so when a new challenging opportunity came up that following year, she went for it.   
That opportunity was with her current employer, Tech And Knowledge (TAK), which reached out to her in need of a Lead Data Scientist to help build out a machine learning and AI team and launch new projects from it. 
"I was able to apply more data science concepts like neural networks, image recognition, and NLP in chatbots," she said. "Leading a team came with new responsibilities and challenges such as designing and selling your own projects to clients, so I also had to work on my soft skills like talking to clients, explaining machine learning concepts, and whiteboarding."  
She's now been TAK's Lead Data Scientist for more than six months, working with clients in retail, telecommunications, and security. A career in consulting allows her to constantly learn about different types of businesses, which she enjoys.
Something else she enjoys? The opportunities that data science brings to Colombia, where social challenges like traffic, demographic, and geographic issues can be solved with data, especially as the impact of the field expands. 
And it's definitely expanding. Andrew Ng, co-founder of Coursera and creator of Google Brain, chose Medellín, Colombia as the first non-North American location for his growing company, Landing AI. Additionally, SciPy Latam, Latin America's scientific python conference, chose Bogotá as its host city last year. Increasing numbers of Colombians are interested in learning about data science, seeking the skills needed to pursue related careers. 
"There are a lot of open communities in Colombia around Python and data science, and they organize events and Meetups every two weeks. It's a full house every time because there's a lot of people interested from different areas and levels of experience that want to share their work," she said. 
In going to these conferences and events, Mónica is continuously meeting new people with varying levels of data science experience and expertise, including many on her same level, whether or not they attended a bootcamp. In her case, it's not that a bootcamp represented the only way to learn data science, but she was drawn to it because she believed the experience would push her toward her expanding career goals quickly and efficiently. 
"The experience of working on your own projects, having teachers with a lot of experience who you can ask questions even 100,000 times, the adrenaline of having a deadline – and for me, the cultural interchange with my classmates from different parts of the world and living in NYC – was all totally worth it," she said. 
_____
Mónica is always interested in connecting with people who like to discuss data science and share projects; feel free to connect with her on LinkedIn and/or Twitter.
Want to read more alumni stories? Visit here.
---