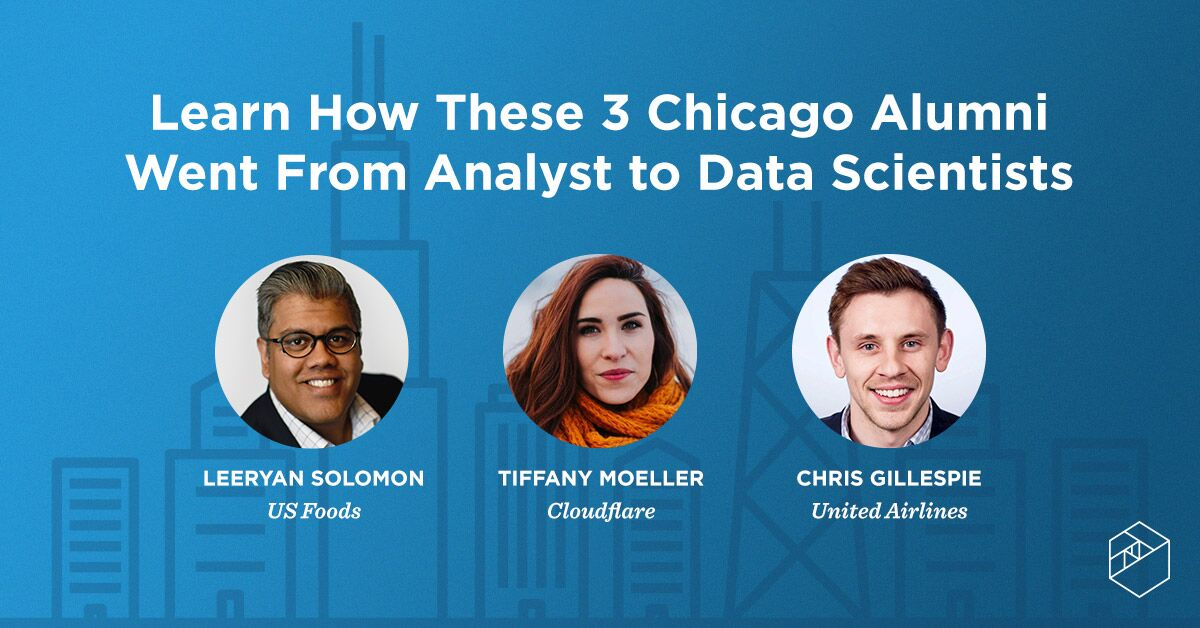 LeeRyan Solomon was working at the US Foods headquarters in Rosemont, IL, just outside of Chicago, when he found himself at a crossroads. As he shifted from his Analyst role to a new role as a Manager for Business Intelligence (Logistics), the opportunities he'd previously encountered to learn new skills and work with data seemed to be slipping away. Even while increasingly rare, when he was still able to work with data, it felt like a bright spot in his routine. 
"When I would discover new data, I honestly felt like I was on a new adventure, not knowing what I will find in that data. I still feel that today," said Solomon. 
His boss at the time took notice of his passion. Solomon and a small group of other US Foods employees were asked if they'd like to attend the Metis Data Science Bootcamp in Chicago, paid for by the company, which intended to skill-up its existing workforce to meet new data-related business goals. 
"I feel like all the people who were chosen from US Foods showed a hunger to learn new things, and at the same time, be an asset to the company. We also had the technical skills that would benefit us and US Foods simultaneously," said Solomon, who graduated from the bootcamp and now works as a Data Scientist for the company. 
"I am now able to think of complex problems that our business is facing in a scientific manner and use really cool tools and models to solve them," he said.
Data Science Bootcamp as a Pathway for Analysts
Solomon and a growing number of others in the Chicago area have utilized the fast pace and overall efficiency of the Data Science Bootcamp model to either switch from analyst roles to data scientist roles, or to advance their careers in analytics by learning new skills, tools, and approaches to their daily work. 
While this can (and does) happen in other cities, Chicago is a unique market, still transitioning – albeit fairly rapidly – into a city with a reputation for data science prowess. As companies' needs evolve and startups continue to develop new ideas and face new challenges, workers in The Windy City need to be ready for related advancements – and data science training needs to match this fast pace.  
"The new and cool things I got to learn during the bootcamp, in such a short time, were more than I learned in the past year prior to starting the bootcamp," said Solomon. "What the bootcamp experience taught me is that you need to learn new things quickly and be open to new thoughts and ideas." 
When New Interests Require a New Path 
Tiffany Moeller is another Chicago bootcamp graduate, and before enrolling, her career had reached its own tipping point. She didn't have a traditional entry into analytics. In fact, she studied counseling in college and started her initial career as a Customer Support Representative at an online marketplace for families and individuals looking to hire local in-home care. While there, she began to see the possibilities of using data for good. 
"I realized there were some really cool things happening on the operations side in terms of analytics, particularly because there was a trust and safety component to the business, which is critically important where childcare is involved," she said. "I began to wonder: is there an opportunity to leverage data to prevent harm?" 
Three-and-a-half years later, she'd worked her way into a Senior Business Analyst role at that same company. She'd also started taking data science courses outside of work because of her growing interest in machine learning, and she weaved her newly acquired knowledge and skills into her work at the marketplace when possible.
However, during this time, she wasn't able to acquire new skills as quickly as she'd hoped, simply because her appetite for it was expanding so quickly. She decided to pursue an immersive learning experience in order to explore data science with full focus. She soon left her job and found her way to the Metis bootcamp in Chicago. Afterward, she took a role as data science lead for a child safety startup called Minor Guard, where she worked on developing technology in the image classification space. The startup ceased efforts within a year, right when Moeller was set to move to London. 
With valuable work experience in tow, she got her current role as a Software Engineer at Cloudflare's London office, where she builds internal tools for the Customer Support and Trust and Safety team. According to Moeller, combined analytics skills, intensive bootcamp study, and startup experience were just the right mix for what she's working on now. 
"The analytics skills that I was able to bring to the table early on helped me provide impact quickly, while I was getting up to speed on the tech stack and the software development lifecycle," she said. "It was great to feel like I could contribute in a really unique way, and my knowledge of Python, SQL, stats, and data analysis have been really helpful is this role so far." 
A Driving Desire for More Exposure to Data 
In Moeller's cohort of bootcamp students, Chris Gillespie was on a mission to transition out of his career in healthcare consulting to one focused on analytics and data science. 
Similar to Solomon's story at US Foods, Gillespie's career was moving toward management and away from a technical focus. He wanted that to change, and within a month of graduating from Metis, he was hired as a Senior Analyst at the United Airlines headquarters in Chicago. He's since moved into a Data Scientist role there, and according to Gillespie, the major difference between his former and current position is that he now delivers models as work product. 
"That leads to more interaction with our data engineering team and business stakeholders to deploy solutions to various applications across the company," he explained. "I deliver more presentations and determine reporting for models taking into consideration business needs, data science metrics, and usage." 
Working for United Airlines interested Gillespie from the start for a variety of reasons. While happy with being hired as an Analyst initially, he hoped to transition into data science over time – and it happened within his first year on the job. 
"Metis equipped me with a very strong foundation for delivering work in data science," said Gillespie. "That allowed me to move from an analyst role to a data scientist role when the opportunity presented itself. There's still learning that needs to be done on the job, but Metis really helped me prepare to deliver in short timelines and to balance exploration with delivery. It was extremely helpful in learning how to communicate advanced topics to people with very little exposure to statistical and machine learning concepts." 
Appreciating Chicago's Unique Data Science Market 
Chicago is a great place for a career in data science and analytics. In her blog post, 5 Reasons Why You Should Move to Chicago for a Data Science Job, Metis Career Advisor Ashley Purdy writes about the aspects of Chicago city life that makes it unique when compared to other big data science markets like New York and San Francisco. Among them, she notes that Chicago has less competition for data-related roles, a close-knit community, an overall lower cost of living, and unique opportunities at growing companies.  
"Within a basic Indeed.com job search in Chicago, there are nearly 800 data scientist job postings, and if we broaden that search to include 'analytics,' there are more than 6,000," writes Purdy. "As these companies continue to realize the need for growth and expanding their data and analytics teams, job opportunities have followed." 
_____
Learn more about the Metis Data Science Bootcamp in Chicago.
---