Earlier this week, we hosted an Ask Me Anything session on our Community Slack channel with Alison Cossette, Director of Data Science in Research and Development at the NPD Group and instructor of our upcoming Introduction to Data Science course. (Starts Monday, 5/20!) 
"What I appreciate about this course is that you will get a good idea of what the data science lifecycle looks like in a compact period of time...I am known to say 'numbers are the best story-tellers,' and it's our job as Data Scientists to give voice to those stories," said Cossette. "We sift through the data, wrangle it, and bring it to life through modeling. We enable others to make sound business decisions with confidence because of our attention to detail and commitment to quality modeling outputs. In this course, you will begin to learn these skills – to complete your first models and tell your first stories."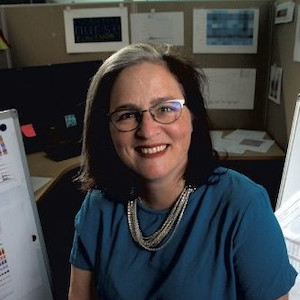 At NPD, Cossette leads data science projects focusing on classification, data imputation, customer segmentation, and she's responsible for analyzing and integrating third party data sources that support modeling initiatives for NPD's omnichannel product, Checkout. She was previously a data scientist in the healthcare industry after transitioning from a 10-year career in the clinical care of oncology patients. Throughout her medical and analytics experience, she's consistently been an educator and mentor including teaching positions at The University of Vermont Medical Center, The Swedish Institute of Allied Health Sciences, and Northeastern University. Her Master's studies in Data Science were completed through Northwestern University and she is a proud alum of the Metis Data Science Bootcamp. 
During the AMA, attendees asked Cossette questions about the course including what to expect and how to prepare. Additionally, they asked her questions about her experience as a Metis bootcamp student and graduate. Read below for some highlights from the hour-long chat. Her Intro to Data Science course starts Monday, May 20th and runs through July 1st from 6:30 - 9:30pm PST on Mondays and Thursdays. Learn more and enroll here.  
_____

I'm trying to pivot in my career and it's helpful to hear others' stories. I have a Ph.D. in chemistry, but there aren't a lot of job opportunities near me. Data science is interesting to me and seems to offer many more career possibilities. Before you were a student in the Metis bootcamp, what career path were you on? 
Metis has been pivotal in my career trajectory over the last few years, not only in my work but also in networking. My last 2 positions I have secured through my Metis network of fellow graduates.

Before Metis, I had spent 10 years in a clinical setting working with oncology patients. I often found myself drawn to the analytic aspects of the work, whether it was auditing medical billing or analyzing clinical statistics. I had a natural curiosity when it came to the data. After I had my children and was looking to return to work, I was looking for something more. After a bit of digging, I found Metis. I had begun with online courses, attended graduate school and rounded out my education with Metis. After the bootcamp, I was ready to hit the ground running in healthcare analytics. 


With so many different courses and bootcamps out there, what drew you to Metis?
I was looking for a balance of rigor and pace. I wanted to be in a program that was really going to push and stretch me. I wanted the rigor of academia but in a much more expeditious environment. To this day, if a resume passes my desk and Metis is on there, it means something. I know the caliber of the candidate before even speaking with them.


Did your training and education at Metis prepare you to work within teams of other data scientists? Or does the training set you up to be the only data scientist on a team? 
The answer is...both! In my first position after the bootcamp at the hospital, I was the only data scientist on staff. My manager didn't really understand what I did but trusted me to do it. When I would get stuck, I could call on my Metis network to troubleshoot and talk through things, so while my Slack name (within the Metis alumni Slack channel) had become "Lone Ranger," I wasn't alone. Additionally, I learned how to collaborate and pair program at Metis, so when I moved to a more team-based setting, I knew what to expect.


Would you recommend taking the Intro to Data Science before the bootcamp? 
YES! This Intro course gives you insight into what is ahead. It enables you to have a bird's eye view going into the bootcamp. When you are then in an immersive environment, you understand the general context from the very beginning. I liken it to seeing the overall map before you start following the GPS. The stronger your foundation, the deeper you can go!


How much Python experience is necessary to take the Intro to Data Science course?
I suggest that folks be comfortable with computer programming and have at least some experience with Python. Self-taught is perfectly acceptable. Here are some resources I love: Learn Python the Hard Way, Code Academy, and Kaggle. 

If you are familiar with another programming language such as R, then you can pick up Python during this course, but it may take a bit more time outside of class to digest. We do cover some Python basics in the first week of the course so you can "dust the rust" if need be.

What is the difference between the Intro to Data Science course and the Beginner Python and Math course? I am new to data science and want to build a strong foundation before jumping into an immersive program. Would you recommend taking this Intro course or the Beginner Python course?
I would say it depends somewhat on your background and comfort levels. Meaning, if you have statistical experience and a computing background, then the Introduction to Data Science course could be a good start. Personally, I always like to know more, so when I studied I started with college math courses to get my brain "warmed up."  In your daily life as a data scientist, you won't be solving calculus problems with a pencil and paper, however, having a solid foundation of the math "under the hood" will go a long to way to help you understand why different algorithms behave as they do. The leverage you get from a strong statistical foundation cannot be overstated.


If a student has extra time during the course, do you have any suggested work they can do?
During the course, you have the option to complete a mini-project and present to the class if you choose. It is 100% optional and only a portion of the students take this opportunity. I encourage students to participate for a couple of reasons:

1. It is your first portfolio piece. As you move forward in your career, you will be asked in every interview (and sometimes at networking events) to talk about a project you have worked on. By beginning this process early, you have a head start. 

2. Because you can! Seriously, there is nothing like completing your first modeling project. The confidence boost will really propel you forward into the next steps of your learnings.
_____
Learn more about the upcoming Introduction to Data Science course here. 
---