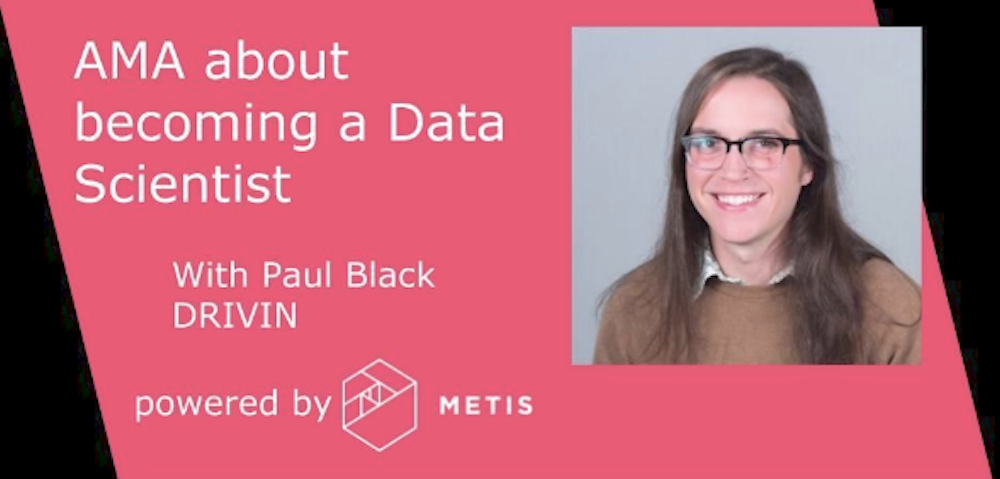 Last month, we had the pleasure of facilitating a live Ask Me Anything (AMA) session on our Community Slack Channel with Paul Black, Metis bootcamp graduate and Jr. Data Scientist at DRIVIN powered by KAR. Open to the public, the event allowed curious guests to ask Paul about his transition to data science, decision to attend the Metis bootcamp, and current role, among other topics. 

Paul studied Cultural Anthropology at Boston University, where he fell in love with storytelling and narrative construction. After that, he spent a year "figuring it out," as he says, reflecting on his career options while working at Trader Joe's, taking MOOCs, and learning more about Python while expanding his math skills. After some deep consideration, he applied to our bootcamp to kickstart his data science journey. 

Below, we've included some highlights from the AMA session. It makes for a great read, especially for anyone who might be considering taking part in their own data science journey.
_____
 Did you have a plan when taking MOOCs (Massive Open Online Courses)? 
When I started taking MOOCs, it was pretty much at random. Just trying to see where my interests were. As I settled on data science, I found this wonderful curriculum at Open Source School. It outlines courses and important topics within data science and has links to relevant courses. I highly recommend it.

After a year of taking MOOCs, why did you decide to do a bootcamp?
The MOOCs were great to learn general ideas and theory, but one of the problems I found with them is that they were often too safe. You studied the IRIS dataset and other very well-documented, well-studied data sets. There was always a right answer and they always led you to it. I felt I was learning some core concepts but not skilled at abstracting them to new problems. I wanted an in-person education where I would work with dirty data sets and really learn how to design a data science project end-to-end. Metis definitely delivered on that. 
What drew you to the field in particular, and why are you drawn to this as opposed to different jobs that involve applied mathematics/computer science?

I was drawn to data science for the same reason I was drawn to anthropology – I wanted to study something that told a story about people and had the ability to change lives and create impact. I was watching the World of Watson conference one year and running around in circles with glee when I really settled on data science. The disruptive power of this industry is immense, though often oversold. A lot of applied math is siloed and data science is, by nature, multi-disciplinary and requires an understanding of context and application as well as the ability to communicate that.
After a year off, how did you convince your interviewers that you were ready to take on this role?

It's 100% about how you spin the conversation. I focused HEAVILY on the self-education I was doing during that time, which made myself look disciplined and showed initiative.
What are some challenges you have noticed being in the data science field and not having a STEM degree and/or an advanced degree like perhaps some of your peers?
Getting my story down for interviewing took a bit of time. Data science is such a multidisciplinary field that I've had people really excited about my background, but I also had to convince a lot of people that: a) I can program and b) I'm good at math.

I definitely had a steeper pre-Metis learning curve and spent a lot of time self-educating, but with the free resources available that wasn't too hard – it just took discipline and time. I feel that I actually have a step up in a lot of ways because Cultural Anthropology has a lot to say about narrative construction and humans. At the end of the day, most of the data is about us as a society/culture. My background gives me a unique perspective that a lot of purely STEM backgrounds don't always come to on their own.
Most data science roles I see listed often require an advanced degree in computer science to even land an interview. You talk about having to sell your story in the interview process, but how did you even get to the point of getting the interview without a STEM degree?
I was talking with another Metis alumni recently who has a background in musical performance and we were sharing how we both felt that our story told better in person than on paper. In my prime, I was going to 3-4 networking events a week, primarily focusing on talks as opposed to socials. I highly recommend this approach. Go, bring a notepad, take notes during, ask an informed question at the Q&A, and stay after.

I met so many people and connected with so many opportunities. The payoff doesn't always happen right away, but the network you build can connect you with things down the road.
Other than that, I was applying to 5 companies a week, always writing a cover letter, finding an HR connection on LinkedIn, or asking the Metis careers team if they had any connections and then reaching out. The careers team gives great advice on how to do this and really helped get conversations started that might not have otherwise happened.

Also, you have to be completely numb to rejections and come to expect them. If you knock on enough doors, one of them will open, but the majority will reject you.
Could you tell me a little bit about your first project in your new role and if you felt (or feel) prepared to handle it?

Because of the size of my company, my *first* project in my new role was a simple reporting script. Very straightforward EDA and I felt very prepared for it. Metis really gets you ready to deal with dirty data and work quickly, so that came very naturally. Now I am working on a regression model with a continuous target. I'm working as part of a team so there is continued guidance, but so far, I haven't run into anything that I didn't feel I could handle.

One of the Metis curriculums' strongest points is it empowers you to quickly pick up new tools and apply them. The pace is quick so you become very familiar with reading documentation and immediately engaging with new libraries.
Did you have a mentor throughout this process at all? If so, how did you find this person?

I am fortunate to have a longtime family friend who has worked most of his career in predictive analytics/CS/data science, but outside of that, the Metis instructors are very invested in you as an individual. I still talk with my instructors regularly when I want guidance, especially for side projects.

I have also been introduced to some amazing people in the industry here in Chicago (through networking events and Metis connections) who have provided me with invaluable wisdom. Of all of these people, I have the most mentor/mentee relationship with the instructor that I sat in front of at Metis. Because he sat next to me, I would constantly ask him questions during project work and he really pushed me out of my comfort zone and challenged me to do things I didn't think I could. He's fully aware of what I'm capable of and invested in my growth, which is an invaluable relationship.
How do see comparisons between data science and cultural anthropology? In terms of learning, your passion, and what excites you?
There's so much these fields could teach each other. In many applications of data science, we're talking about people and their behaviors at the end of the day. Also, I was fortunate that BU's C.A. program is very multi-disciplinary and focused on a lot of hybrid quantitative/qualitative approaches.

But the applications of data science and what they can say about us as a society really get's me going. It's such a transformative field and transformative in the way we see ourselves, the way we interact with our environments, etc. Often data-driven recommendations feel like they're so specifically targeted at us (when often they're really just a standard output for a set of features used to describe us); I love that stuff both as a data scientist and an anthropologist.

What is your advice for developing something like an end-to-end machine learning application?
My final project at Metis was an end-to-end ML project. I gathered my own data with a custom web crawler, ran it through a clustering algorithm, and wrapped the output in a web app. This whole process started with an idea. I wanted a website recommendation system similar to Pocket, but I wanted it to be purely about data science.

From that idea, it's all about the design process. Is there data out there? Do I trust it? Do I need to build my own data set? How do I do that? And then just chase the idea down the rabbit hole and be resilient! Finding a friend who's working on a project who you can do regular check in's with is very helpful, and there are Meetup groups like ChiPy and Chi Hack Night where you can find people to do that with!

How can someone learn more about data science?

There are so many free resources out there. I used Edx, Coursera, Udacity, OSSU, watched live streams of conferences, and searched through blogs like KDnuggets. I highly recommend Metis, obviously, and O'Reilly books. After you get a base, there are a bunch of open data portals and Kaggle competitions to get some practical experience, which is absolutely necessary.

What is your best advice for an aspiring Data Scientist?

I would say get a routine going that makes learning a regular part of each day. Schedule time for MOOCs, independent projects, networking events/talks, etc. It doesn't have to be a lot of time, but it has to be regular. Constantly push yourself to grow and don't be afraid to break things/fail. Failing is where I've learned the most. There are so many resources available to grow and one of the most beautiful parts of the data science field is people are always willing to learn new things and help others learn new things.

Does the Metis program help you find a job? 

Yes! Every campus has a careers counselor who offers training in networking, resumes, etc., as well as helping to build connections in the industry. The careers team works with you long after the 3 months of the bootcamp are over and makes sure you keep on track. I have gotten introduced to so many opportunities and wonderful people through Metis.

Did you consider any other bootcamps besides Metis? Seems like there are a lot of different ones available. Why did you decide on Metis?
OMG yes there are so many options these days. I wanted something that specialized in data science, which narrowed it down, but even then, there's a lot of options. I was looking in Chicago, so having a campus here was definitely helpful, but the real deciding factor was looking at SwitchUp/Course Report and looking at different curriculums. Metis is highly rated by its alumni and when comparing curriculums, it looked like it was something that would challenge me, but also require that I had a foundation. I wanted a space that would propel me forward without holding my hand (and Metis did just that).
_____

If you're interested in learning more about our bootcamp, visit here for a breakdown of the 12 weeks and a look at the full curriculum. 
---