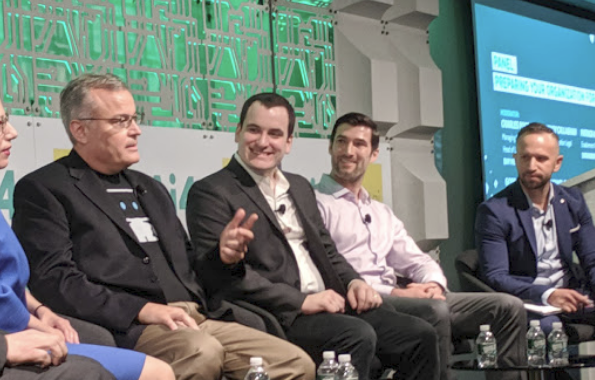 Michael Galvin (third from left to right) participating on the Ai4 panel. 
The Ai4 Conferences present opportunities for business leaders and data practitioners to discuss the adoption of AI in their industries, be it healthcare, retail, cybersecurity, or beyond. At this year's Ai4 Finance Conference in NYC, Michael Galvin (Metis Executive Director of Data Science Training) participated in a panel discussion on Preparing Your Organization for AI. Along with other panelists Gordon Liu (EVP - US head of Global Risk Analytics at HSBC), Wendy Callaghan (Chief Innovation Legal Office at AIG), Patrick Nussbaumer (Enablement Program Director at DataRobot), and David Robinson (Chief Data Scientist at DataCamp) – and led by moderator Charles Post (Managing Counsel & Director, Head of Legal Data Management at BNY Mellon) – Mike discussed current attitudes toward AI, expanding uses of AI within business, and how companies can start to implement AI training to reach business goals. 
"AI is not all hype," Mike said during the panel. "And it's not just investing in the appropriate technology and skills. It's also a cultural change you have to seek throughout your organization and it requires continual education. If you have the following components: education, culture, tech, and technical skills, you will see the worth and value of AI." 
At one point during the hour-long discussion, the moderator asked the panelists how companies and organizations are currently adopting AI. What does it look like in practice?
"We've seen both bottom-up and top-down approaches – and with top-down approaches, it's most successful when we have an executive sponsor," Mike said as part of his answer. "A lot of the training we do is actually for a broader audience that's not technical so the company can build out the fluency and literacy of the workforce and executive teams with the goal of increasing the cross-functional collaboration and building a better culture of AI and data throughout. AI is not just for data scientists or machine learning engineers, it's really for everyone."
Mike also noted that oftentimes, individuals and companies only consider AI in terms of consumer-facing products or the latest (often flashy) products on the market. But what they may not yet realize is that low-hanging fruit exists throughout any organization – and that fruit is likely applicable to anyone. Examples include human resources, procurement, supply chain, pricing, and more. 
"Pretty much any function or area of a company can benefit from using AI technology," he said. 
So how does an organization transition from not even knowing what's possible, to knowing and implementing AI into the business?
"A lot of this is done with education," said Mike, before going on to say that laying the groundwork of data literacy is the best first step.
"We do a lot of data literacy training, so we think about how to teach product and software engineers, executives, managers, whoever it may be, to identify problems with the appropriate project management workflow, and how to understand the use cases, terminology, and appropriate timelines for a data science, AI, and/or machine learning project." 
Once projects are underway and use cases exist, the moderator asked how teams can approach building trust with stakeholders in order to get buy-in for more advanced, wide-reaching work? From Mike's perspective, it's best to start small. 
"A lot of times, data scientists overcomplicate things initially. To get buy-in and build trust, you should strive for some quick wins that are simple and easy to explain. This means simple use cases but also simple methods. You don't need a complicated solution to a simple problem," he said. "I think overcomplicating is common because people want to start with the most complicated algorithm because they think they'll get the best result that way. But when you start small, you get buy-in, and that's important."
Want more insight from Mike, and want to hear what the other panelists have to say? This post is just an overview, and it hardly scratches the surface of all the wonderful things said. Watch the entire panel here for much more. 
_____
Learn more about Metis Corporate Training, which enables businesses to capitalize on the talent already working under their roofs through on-site training on topics like Data Literacy, Machine Learning, Data Engineering, and much more.
---