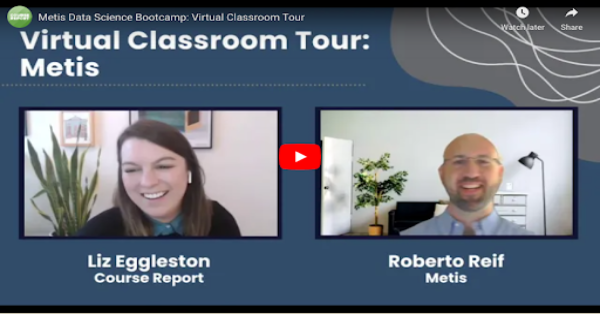 Roberto Reif, Executive Director of Data Science and Strategy here at Metis, recently walked the Course Report team through a virtual classroom tour of our new data science & analytics bootcamps. During the discussion, Roberto shared what prospective students can expect from the admissions process, day-to-day life during a bootcamp, and how they're supported during the job search process. 
"Bootcamp programs are tied to a Career Services Team, who work with students from the moment bootcamp starts to the moment they are hired. The week after the bootcamp, we offer a dedicated Career Week to go through mock-interviews and workshops on finalizing a strong resume, building a LinkedIn profile, how to network, and how to negotiate salaries."
Roberto then dives into a full virtual classroom tour that provides an excellent overview of what prospective students can expect during the live online bootcamps and short immersive courses. This webinar will be an indispensable resource for those interested in how Metis pivoted our offerings to live online. 
Watch the full webinar on the Course Report blog post, where you'll also get a full transcript of the conversation.  
---
Want more content from Roberto? Check out his Metis blog post Misleading Graphs: Manipulating the Y-Axis! 
---