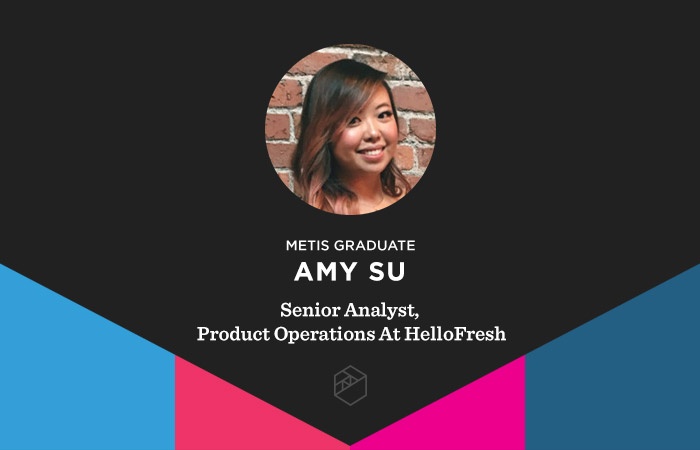 If you're not hungry already, you'll probably be ready to eat by the end of this post. Bootcamp graduate Amy Su works as the Sr. Analyst of Product Operations at HelloFresh, a meal kit delivery service known for all-natural, easy-to-prepare recipes. In addition to catching up with her to discuss her role at the data-driven company, we also talked about the joys of working with food-related data all day. 
"One of my key responsibilities at HelloFresh is analyzing our menu satisfaction and finding ways to improve our menu for our customers," said Amy, who noted her affinity for the Cheesy Onion Crunch Chicken and the Figgy Balsamic Pork kits. "It's been amazing because...I get to work with and analyze food, and who wouldn't love that?" 
Prior to the bootcamp, Amy graduated college with a degree in International Business and Consulting and had already started a career in consulting, opening herself up to a variety of types of work, on a mission to find a more specific career path. She knew she found the right mix when exploring the convergence of working with data and product teams.  
After some research and a discussion with her friend and Metis bootcamp graduate Kai-Ray Wang, she felt confident in her decision to pursue a bootcamp education. But first, she had to address a steep learning curve, which led her to our Introduction to Data Science Bootcamp Prep Course. 
"I had tried self-studying prior to the bootcamp and was struggling to understand some concepts," said Amy. "The prep course helped me wrap my head around everything. It was a nice introduction into all of the things we learned, in more detail, during the bootcamp, which I found extremely beneficial." 
During the bootcamp itself, she learned how to use many tools that she now routinely turns to at HelloFresh. She queries all information from the data warehouse in SQL and manipulates and cleans data using Python. She creates Tableau Dashboards to track Average Order Value and other monetization metrics, and she does sentiment analysis for Menu Satisfaction work. These skills have helped her find ways to work through on-the-job challenges, including the one she's facing now. 
"One of our biggest challenges is data limitations. Because HelloFresh is an international company that has grown quickly, a lot of the tools we use have not been scaled for our size, and our data capacities have not been increased and updated quickly enough to support our business domestically and internationally," said Amy. "Figuring out workarounds to this issue has been fun and has taught me a lot." 
With this openness and continuous learning attitude, which Amy has routinely shown in her education and career, she's able to push herself, her team, and her company forward. 
_____
Want to read more alumni stories? Visit here.
---