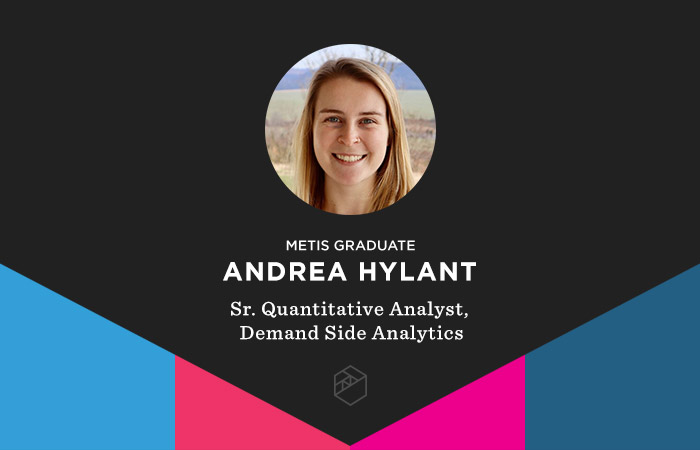 Bootcamp graduate Andrea Hylant cares deeply about the environment, as her education and career demonstrate. She earned a B.S. in Geology and Environmental Sciences from the University of Michigan before working for the United States Geological Survey (USGS), and then a nonprofit focused on helping homeowners adopt solar energy. 
For each role, she eagerly embraced elements of data science. At USGS, she used models written in R and MatLab to translate electromagnetic readings from the earth into maps of the subsurface. At the nonprofit, she explored developing analytics techniques that could help estimate a homeowner's return on investment on a solar system. 
She embraced them so much that she realized data science was the confluence of her main interests when considering longer-term career goals. 
"Data science presented a path that would neatly tie together my interests in exploring different technical tools, digging into data for useful insights, and visualizing those insights. I saw that these skills would be useful to me as I pursued a career in energy resources and sustainability," said Andrea. 
The data science bootcamp presented itself as a cost- and time-effective way into the field, but at the time, she wasn't sure if she was ready to apply. To get a better sense of the bootcamp experience and to sharpen her coding and math skills, she enrolled in the part-time Beginner Python and Math for Data Science course.
"It had been a while since I took a math class, and I had just passively started to explore coding in Python," she said. "The course turned out to be incredibly important by preparing me for the bootcamp application process, and it served as a great baseline before entering the bootcamp." 
The immersive bootcamp itself was an experience she describes as "extremely accelerated and intense." Like everyone else in her cohort, once the 12 weeks started, she was off to the races. She focused on a time series analysis using the autoregressive integrated moving average (ARIMA) models for her final project toward the end of the program.
"I utilized granular customer load data to predict their electric consumption on 24-hour intervals," she explained. "I wanted to take the time to explore ARIMA models more because I thought time series concepts might be important for the type of work I was interested in after the bootcamp. As it turns out, both the modeling techniques and the subject matter in my final project are related to the job I ended up getting." 
That job is her current role as a Senior Quantitative Analyst at Demand Side Analytics; a company focused on helping utilities and regulatory agencies navigate the challenges of building a cleaner and more efficient energy future. 
"I was drawn to this role because it fit in nicely with my interest in the energy sector and newly gained skills in data science. Since joining, I've learned a great deal about impact evaluation analysis, which includes exploring the power of simple regressions on time series and panel data," said Andrea. 
Since February of this year, she's been on the job and has been met with a number of challenges already, which she views as opportunities for growth. 
"Every day, I learn something new, and I have the opportunity to work with data, and on problems, I find extremely interesting," she said. 
Reflecting on her role, advancing career, and how the bootcamp helped her progress along her path, she has some advice for incoming students. 
"Stay focused, be vigilant, never be afraid to ask for help when you need it," she said. "And don't forget to have some fun. With dedication and the right attitude, this bootcamp will be able to get you where you want to go."
---