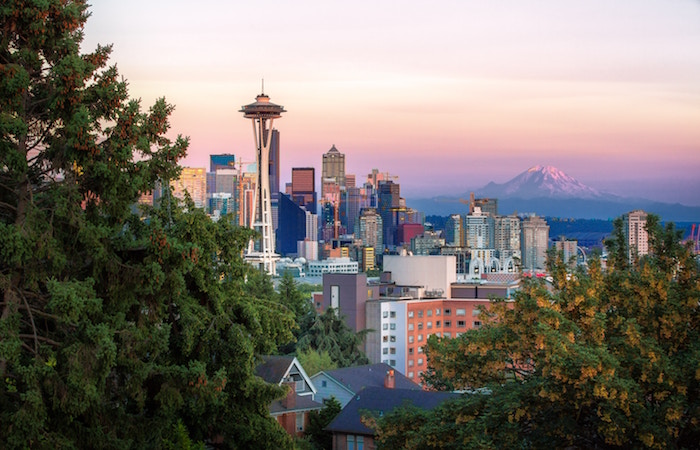 Photo by Luca Micheli via Unsplash
Seattle is the fastest-growing big city in the United States, and it's also become the second strongest tech market in the country. Along with fairly sudden, and then sustained, growth like we're seeing in the Emerald City, new opportunities tend to spring up around many formerly quiet corners.
Along with major players like Amazon and Microsoft, there's a significant mid-sized and startup community feeding into the city's increasingly contagious energy – and many of these companies need data scientists! To help fill those roles, we opened our Seattle data science bootcamp campus in September 2017 with the plan to harness and guide some of the city's burgeoning, or already established, tech talent toward data science specifically.
Fast forward to now and we've graduated 50 data scientists from our bootcamp, many of whom are now working at Seattle's leading companies and organizations like the aforementioned Microsoft and Amazon, along with Starbucks, The Gates Foundation, Liberty Mutual, Zulily, Indeed, Planet Labs, and Allstate, among others.
(Click to read interviews with alumni currently working at Zulily, Indeed, Liberty Mutual, and Amazon.)
Of course, we're not the only data science bootcamp in Seattle with this sort of mission, and anyone thinking about a commitment on this scale needs to determine the most productive route for them. With that said, here are 6 things you should know about the Metis Seattle Data Science Bootcamp, and we hope it helps you make the best choice for you and your career:
Nearly Half of our Seattle Data Science Graduates Have Been Women: 
In a still male-dominated industry, more than 42% of our newly graduated data scientists have been women, helping make gains for those who identify as women in a Seattle tech workforce that is only 20.6% female. Among those graduates, Emily Geller now works as a Decision Scientist at Starbucks and Man Liang works as a Product Scientist at indeed.com. We offer a $3,000 scholarship for women, members of underrepresented demographic groups, those in the LGBTQ community, and veterans or active U.S. military personnel. 

World-Class Instruction: 
We exclusively hire instructors who are real-world, data science practitioners with proven abilities to teach. They all come from some mix of academia, industry, or both, and are active in the data science community in Seattle. They'll guide you as you hone, expand, and contextualize the skills you already have while working to broaden your knowledge base and skill set exponentially. They're present with you every step of the way to answer your questions and help you work through whatever challenges arise. Our Seattle instruction team includes Chad Scherrer, who has a Ph.D. in mathematics and experience at the Pacific Northwest National Laboratory, where he worked on statistical and computational challenges ranging from homeland security to high-performance computing and machine learning research. Then there's Damien Martin, who has a Ph.D. in cosmology and has spent time developing project-based learning in physics, math, and computer science at small liberal arts colleges and has worked as a curriculum designer and data scientist for a San Francisco recruiting startup focused on filling coding roles. Read more about them and the rest of the team here.


Project-Focused Curriculum: 


Incorporating traditional in-class instruction in theory and technique, students at our Seattle bootcamp use real data to build a five-project portfolio to present to potential employers.

We firmly believe (and it's been proven time and time again) that having a full and complex portfolio at the end of 12 weeks is a huge boon when it comes to landing that coveted data science job in Seattle post-graduation. Take a look at some fascinating final student projects here.


We're Accredited (And Here's Why That Matters): 
This means that we're held accountable, required to operate at a certain level of excellence and maintain a high standard in terms of instruction quality and positive student feedback. We consistently update our curriculum, tools, and approaches based on student feedback, industry advances, and accreditation standards so that each student has the most complete and effective learning experience possible.


Extensive Career Support During + After Bootcamp: 
All bootcamp students have access to full career support throughout and after the bootcamp, including one-on-one meetings with an assigned Career Advisor, mock interviews to prepare you for the real deal, workshops on topics like salary negotiations, networking, resume writing, and more, plus a Career Day event during which each student presents their final passion project to a room full of Metis hiring partners looking to fill open positions. Our Seattle career support team has helped place graduates like Marco Zamora in his role as Sr. Analytics Associate at Revel Consulting and Carlie Badder in her role as a Data Scientist at Avanade.


New Downtown Location: 
As Seattle continues to grow, we want to be at the center of it all. Our new downtown location makes that possible, and we believe our students will benefit. Attend Meetups and events at companies within walking distance, stroll to the nearby waterfront for a restorative break, grab a coffee at the Pike Place Market, and let the energy of the city's bustle feed into your focus.
_________
Visit here to learn more about our 12-week data science bootcamps in Seattle, San Francisco, Chicago, and New York City. 
---