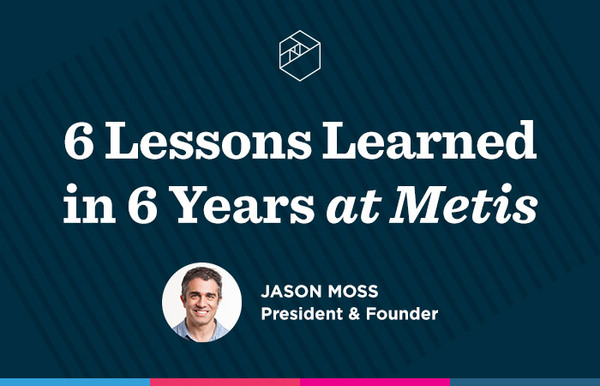 Two months ago, Metis turned six years old. It's an anniversary that's hard for me to comprehend, as it feels like only a few days ago we first tweeted, "Hello world!" At that time in my career, I may have had a Kellogg MBA, 15+ years of experience in the education sector, and a background from McKinsey, but it could no way have prepared me for what the next six years would bring.
Now today, as I stand on sturdier ground, excited for the next six years ahead, I thought I might celebrate this anniversary by sharing six (of the many) lessons learned.
1) Embrace continuous transformation. Nothing is "right" for long. 
In referring to battle, Dwight D. Eisenhower once said, "Plans are useless, but planning is essential."  He could just have easily been referring to business plans, especially with the pace of change in today's hyper-accelerated world. When we launched six years ago, we ran a Ruby on Rails bootcamp in Boston through a partnership with a third party consultancy. Today, we do not offer Ruby on Rails, we are not in Boston, and we create and teach everything internally.  I've written multiple business plans over the past six years; each one out-of-date in months. Plan to embrace change. Anything less is a recipe for extinction.
2) Think digital first. Plan for scale from the get-go.
To boast for a moment: I believe we run the best immersive data science bootcamps and corporate training classes on the planet.  Great outcomes, strong reviews, engaged alumni, incredible instructors. While still a vital and growing part of our business, on-campus programs don't scale.  As demand grows globally, and expectations for services move to anytime, anywhere, we are now putting a much greater focus on online learning. Our mission is to educate as wide an audience as possible to find value in data, and our new live online bootcamp and part-time bootcamp prep courses are great first steps.  Steps we should have taken sooner.
3) Fish in large ponds.
Data science is a great market – high demand and growth, relevant to every industry, top job on Glassdoor, etc. Yet, it's but the tip of the so-called data iceberg.  For every individual who wants to learn data science, a hard-to-define field with considerable prerequisites, there are 10x people who need to learn Python or statistics, and 100x people who need to learn fundamental data skills. Identify early the largest total addressable markets.  It took us a little while to finally recognize the opportunity below the water level, but that's why I'm now so excited about our efforts in data literacy, for example.
4) Don't make assumptions lightly. Be clear about big decisions.
As we talk to corporate executives about their need for data literacy training, the often unspoken sentiment is that many business leaders are tasked with making big decisions about issues they don't personally feel like experts on.  It's super common, and I can relate. I'm not a data scientist. My hesitation to sometimes ask key questions has led me to occasionally make assumptions with a material impact. Python or R? We assumed we should do everything in Python, not questioning the alternative. I can't tell you why we made the decision at the time. (Fortunately, this decision was the right one.)   
5) There is excellence in focus.
Our original plan was to offer software development, data science, UX, cybersecurity, product management, and whatever else we deemed a "new economy" job with a supply-demand imbalance. In our first year, we did training in several of these. But, while there are similarities, in practice, it's hard for a young company to do many things well. The subject matter, the talent pools, the decision-makers, the target companies are all different.  Deciding to exclusively pursue data science gave Metis the opportunity to achieve excellence through focus. Ironically, this focus became the source of our growth just within data science. It led to our expansion in corporate training, to offering bootcamps internationally, and to building out our bootcamp prep courses.
6) Invest in people and reputation. Good things will follow.
It's not hard to make money in our industry. There is enough sufficient buzz about data science that all we would need to do is enroll all applicants, relax our hiring standards, use our original curriculum, and we'd earn a ton…but we would have a terrible product with poor outcomes and people would not want to stay at Metis.  I'm a firm believer that if you invest in people and quality, good things will follow. Candidly, I can't afford not to. The data science instructors Metis hires are constantly recruited by top-tier companies. We are in ongoing competition with everything from free online courses to multi-year degree programs. The only path forward is to create a company where people can grow and feel valued, and develop products that people believe in.
At six years of age, we're smack in the middle of Jeff Bezos' famous "five-to-seven-year" window before one can realistically evaluate the potential of a business. And while I would certainly tell Mr. Bezos the long-term potential for Metis is great, I also know we're still very much learning. As we've said in our motto since day 1: "We strive, we sweat, we swear. We go the extra mile. We stage, we fail. We try again. Get it right. We learn. Connect. Come together. This is Metis."
---