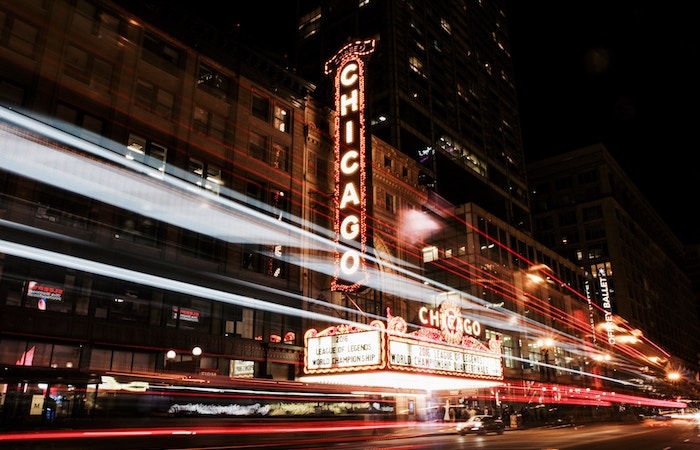 Photo by Neal Kharawala on Unsplash
If I asked you to imagine a bustling tech and data science scene, your mind might wander to the robust startup culture of San Francisco, or Amazon's home base in Seattle. You may even jet set over to the East Coast and think of New York City. And you wouldn't be wrong! All three have significant tech and data science communities offering a ton of job opportunities. But one city you may not picture is Chicago – and you really should!
Chicago, also referred to as The Second City, can sometimes feel exactly like that when pitted against some of these larger lands. But Chicagoans know that this midwestern city is special, and I'm here to fill you in on why. 


1. WE HAVE A CLOSE-KNIT COMMUNITY 

I think Chicago can be considered a "small big city." In other words, you still get certain advantages of a big city without some of the pitfalls. Chicago's data science community is widespread and active! You can find a tech/data science meetup, conference, or event to go to every night of the week. There is no shortage of opportunities to meet new people, find resources to learn something new, or practice your skills at a hackathon or event. In fact, we have an entire hub, called 1871, dedicated to innovation, technology, and startups. 1871 regularly hosts events and nurtures the community with a number of different resources.
One thing that sets Chicago apart from other cities with robust communities is the ability to become a face with a name. If you get active in the data science community in Chicago, you'll start to recognize and get to know people and they'll recognize you, too! This isn't always the case in New York or San Francisco, where you can often feel like just another face in the crowd. Having a close-knit community brings a feeling of comfort and belonging, making it a lot easier to build your own network, and to feel supported in a job search or career transition.

Our own Metis Data Science community is just as close-knit. We launched our Chicago Data Science Bootcamp in January 2017, and we've thus far run eight cohorts of students. We recently hosted an alumni event and had nearly 40 attendees including alumni from all eight cohorts. Talk about support! Not only do our alumni support us and each other, but our broader data science community in Chicago is also thriving with close to five thousand members in our Meetup community.


2. UNIQUE GROWTH OPPORTUNITIES AT EARLIER STAGES OF ADOPTION

One thing to know about the Midwest is that we value tradition and can be a bit "old school" at times. When coastal cities like San Francisco were jumping on the bootcamp bandwagon, the Midwest was a little slower to adopt the concept and educational structure. We Midwesterners want to take time to evaluate whether something is worth changing. Now, more and more people are realizing the value that a bootcamp education can add to a portfolio and resume.

This is true of data science at large in Chicago, where companies are starting to more deeply understand that investing in a data science team or building up an analytics team is going to give them a competitive advantage in the marketplace. This is creating some unique opportunities for job seekers in Chicago, where you now have the potential to be part of the beginning of something great. You get to be part of building it, shaping it, and making it your own. Getting experience during this growth period can expose you to a variety of different projects and technologies, which can help position you for future career opportunities in more senior roles or as a subject matter expert.


3. LESS COMPETITION FOR OPEN ROLES

As these companies continue to realize the need for growth and expanding their data/analytics teams, job opportunities have followed. Within a basic Indeed.com job search in Chicago, there are nearly 800 data scientist job postings, and if we broaden that search to include "analytics," there are more than 6,000. This may not seem like much compared to the 8,000 posted in San Francisco or the 14,000 in New York, but combining Chicago's number with fewer applicants equals a lot of potential opportunities. Companies like Google, Facebook, and Netflix have paved the way in technology innovation and data science, so it's not surprising to see job-seeking candidates flocking to the coasts to get closer to them. However, that movement leaves a talent gap here in the Midwest and a shortage of talent to fill our open roles.
Now, I don't want you to assume that we are just giving away jobs in Chicago. You still have to have the right skill set to successfully land a data science job, but the interview process will feel much less like the "Hunger Games." While the typical frustrations of applying to a job still exist here (read: cold applications stink!), it's not quite at the level of what you might experience in a more talent-congested market. Hiring managers are also a little more willing to be flexible when it comes to greener candidates here in Chicago.
If you're like many of the bootcamp graduates I work with, who tell me that they're drawn to bigger tech companies because they want to work on interesting problems, then look no further! Chicago is home to a number of Fortune 500 companies with growing analytics teams including Allstate, United Airlines, and US Foods to name just a few. United Airlines has hired several Metis alumni and US Foods has sent several of its employees to our bootcamp to skill up so they can better develop their data team. We also have a number of mid-sized companies that have large data science teams, are consistently hiring, work on interesting problems, and use technology-driven solutions like computer vision. I know this first hand because we have alumni working in these environments, too! And with large tech giants like Amazon considering Chicago as a future hub, it's a great time to be looking for a data science job in The Windy City! 


4. LOWER COST OF LIVING (WE CRUNCHED THE NUMBERS)
Coming from a smaller city or town, Chicago would not be considered cheap. But when it comes to big cities, it actually has a fairly low cost of living. Let's run the numbers. I used Expatisan's cost of living calculator, and when you compare Chicago to New York City, housing is 60% higher in the Big Apple and food prices are 32% higher. The tool also evaluates clothing, transportation, personal care, and entertainment. With all of this taken into account, New York has, on average, a 24% higher cost of living. I ran a similar comparison with Chicago and San Francisco. San Francisco's housing was a whopping 85% higher, but the overall average cost of living rounds out to be 28% higher than Chicago.
When we take a look at average salaries of data scientists in all three of these cities, according to Glassdoor, New York's average salary is only 11% higher than in Chicago – pretty far from offsetting the cost of living discretion. San Francisco's average salary comes in at about 27% higher than Chicago, which is much closer to filling the cost of living gap, but it still doesn't completely offset it. In other words, living in Chicago gives you more bang for your buck!


5. MIDWESTERN NICE IS A REAL THING (AND IT'S AWESOME)
My final reason for moving to or staying in Chicago is a bit biased because I'm a born and bred Midwesterner, but I swear, "Midwestern Nice" is a thing! People in Chicago are friendly! We are a supportive group of people who want others to succeed. We are not so heads-down or living too fast to notice others, and we're not so laid back that we don't get the job done. We're right in the middle. 
If you've never been to Chicago, don't be surprised when someone holds the door open for you or takes you up on your offer to grab a networking coffee. Friendliness and niceties make people approachable, which is just what you want when looking for a job. The Windy City isn't perfect – we have cold winters and may take our sports a little too seriously – but if you can look past those things, it's a great place to be, especially as a data scientist!
_____
Learn more about our Data Science Bootcamp in Chicago.
---